REGENT – UNIVERSITY COLORADO
Dr. Ora S. Fowler / ΣΝ-ΓΚ #1

Ora S. Fowler was the first initiated member of the Sigma Nu Fraternity Gamma Kappa Chapter. He was a leader in the Chapter from its beginning, and was elected first Commander of Gamma Kappa. Fowler was four years on the Varsity football team, and one year was captain of the track team. He was one of the most popular men on the campus, and became first president of the Associated Students organization. Fowler's activity and popularity in connection with the University continued after he became an alumnus, and resulted in his being made a member of the Board of Regents of the University. His interest in Sigma Nu likewise survived, culminating in distinguished service as an Inspector.
GENERAL SECRETARY – SIGMA NU NATIONAL FRATERNITY
Ernest Lee Williams / ΣΝ-ΓΚ #11

One of 12 charter members of the Gamma Kappa chapter at the University of Colorado. Ernest Lee Williams, a lawyer by profession, was affectionately known throughout the Sigma Nu Fraternity national organization as "Dad". He had gained that title because of the relationship he had with the Gamma Kappa chapter when he served as Chapter Dad. On March 4, 1921, the Sigma Nu High Council met to select a successor to the post of the National Fraternity's General Secretary (which marked the end of a five-year search for an executive to administer the affairs of the Fraternity). Williams was the man selected for the position. Williams had served as Division Inspector for a period, and at the time of his appointment as General Secretary, he was serving on the High Council as Grand Counselor. During his eight-year term as General Secretary, Williams traveled extensively – visiting each chapter several times. He wrote a regular column in the Delta which he called "The Trail of the White Star." His column chronicled his travels throughout the country and gave his impressions of the chapters he visited. Those who knew Williams accused him of one fault, impatience. He wanted to see weak chapters immediately transformed to strong ones. He felt that information concerning policy decisions took too long to get from the level where the decision was made to the grass roots of the Sigma Nu Fraternity.
FOUNDER OF GAMMA KAPPA CHAPTER
George W. Smith / ΣΝ-ΓΚ #13
The successful effort to establish Sigma Nu at the University of Colorado was inaugurated by George W. Smith, who was one of the members of Beta Kappa when the Chapter withdrew from Southwest Kansas College in protest against anti fraternity laws. Smith was taking postgraduate work at Boulder during the college year 1901-02. Gamma Kappa Chapter was installed May 2, 1902 and 12 members were initiated on that occasion. George W. Smith, the founder, affiliated as one of the charter members of Gamma Kappa.
NAMESAKE – BUCKLEY AIR FORCE BASE AND AIR FORCE SPACE COMMAND – WW1 AVIATOR
John Harold Buckley / ΣΝ-ΓΚ #132
John Harold Buckley was initiated into the Gamma Kappa chapter of Sigma Nu Fraternity in 1914. The name Buckley Field (known today as Buckley Air Force Base – Denver, Colorado) was chosen in honor of 1st Lt. John Harold Buckley, a World War I flier from Longmont, Colorado. Buckley lost his life in France on September 27, 1918 as the result of a mid-air collision with another pilot from his squadron while forming up to cross enemy lines on a combat mission. He is interred at the American Cemetery in Meuse-Argonne, France.
GOVERNOR of COLORADO 1915-1917
George Alfred Carlson / ΣΝ-ΓΚ #147
George Alfred Carlson was born on October 23, 1876 in Iowa. He attended the University of Colorado. He obtained his Juris Doctorate of Law Degree from the same institution. He was elected District Attorney for the Eighth Judicial District and was serving in that capacity when he was elected governor of the State of Colorado in 1914. The coal strike that resulted in the "Ludlow Massacre" in 1914 near Trinidad, Colorado, and liquor prohibition were the main issues in the campaign.
With the inauguration of Governor Carlson, the coal strike conditions virtually ceased and the federal troops that were brought in to squelch the strike in southern Colorado soon withdrew. Carlson aided in passing laws designed to promote the cause of labor and prevent strikes. A Workmen's Compensation law was also passed, providing insurance for laborers against accidents or death. Governor Carlson was instrumental in securing passage of another reform measure, the state "Dry Law" which prohibited the manufacture or sale of alcohol. He strongly encouraged the enforcement of this law as well as many others, which resulted in the reduction of lawlessness during his tenure. After one term, he resumed his law practice in Denver.
Carlson died in Denver on December 6, 1926 and is buried in Greeley, Colorado.
JAZZ MUSICIAN – BIG BAND LEADER
Alton Glenn Miller / ΣΝ-ΓΚ #224
Alton Glenn Miller was an American jazz musician and bandleader in the swing era. He was one of the best-selling recording artists from 1939 to 1942, leading one of the best known Big Bands. Miller's signature recordings — including, among others, "In the Mood", "Tuxedo Junction", "Chattanooga Choo Choo", "Moonlight Serenade", "Sun Valley Jump", "String of Pearls", "Little Brown Jug", "Pennsylvania 6-5000" Posthumously in 1983 he received the GRAMMY Hall of Fame Award ("In the Mood") and 1991 ("Moonlight Serenade"). In 2003, Miller he received the Grammy Lifetime Achievement Award.
Glenn Miller started his musical career with an old trombone, which he practiced diligently. In 1923, Miller entered the University of Colorado where he joined Sigma Nu Fraternity. He concentrated on making a career as a professional musician. From 1939 to 1942, his band was featured three times a week during a broadcast for Chesterfield cigarettes. Miller and his band appeared in two Hollywood films – "Sun Valley Serenade" (1941) and "Orchestra Wives" (1942).
Read More
In 1942, Miller joined the United States Army Air Forces and was commissioned as a captain as well as being appointed as the branch's band director. The orchestra, from mid-1943 to mid-1944, made hundreds of live appearances, transcriptions, and radio broadcasts for CBS and NBC. Miller felt it was important that the band be as close as possible to the fighting troops. In mid-1944 he had the group transferred to London. While in the United Kingdom the band gave more than 800 performances to an estimated one million Allied servicemen. On December 15, 1944, Miller, now a major, was scheduled to fly from the United Kingdom to Paris to play for the soldiers who had recently liberated Paris. His plane departed from RAF Twinwood Farm, Clapham, Bedfordshire, but disappeared over the English Channel. Miller's disappearance remains a mystery – neither his remains nor the wreckage of his plane were ever recovered from the water.
Glenn Miller's music is familiar to many born long after his death, especially from its use in a number of movies. James Stewart starred as Miller in 1953's popular "The Glenn Miller Story", which featured many songs from the Glenn Miller songbook.
GOVERNOR of COLORADO 1943-1947
John Charles Vivian / ΣΝ-ΓΚ #234
Born on June 30, 1889, John Charles Vivian attended the University of Colorado. He played bass drum in the marching band, and was band leader his senior year. He received a Bachelor of Arts degree. Vivian attained a Bachelor of Laws degree at the Denver University Law School.
While at Boulder he worked as a state editor of the Boulder branch of the old Denver Times. He also wrote for the Rocky Mountain News as a city editor in metro Denver. In 1937, his poems and epigrams started to see publication in many nationally circulated newspapers and magazines, including the Chicago Tribune and New York Times. John Vivian held the post of Lieutenant Governor of the State of Colorado from 1939-1943. He was nominated as the Republican Gubernatorial Candidate and won the general election, becoming Colorado's thirty-eighth governor in 1943. He served 2 two year terms as Colorado's governor during the tumultuous period of the Second World War (1943-1947).
Read More
Vivian accomplished transforming Colorado from a strongly rural, mining dependent collection of counties into a progressive industrial–scientific state. Vivian governed as a fiscally conservative. Vivian's administration concerned itself with highway safety, conservation, uniform state laws, veterans' benefits, and the creation and passage of the Colorado Labor Peace Act. Vivian ran for the U.S. Senate on the Republican ticket in 1948, but lost. After retiring from public office, Vivian became associated with the law firm of Vivian, Sherman and Kinney in Denver. He died at the age of seventy-six, on February 10, 1964.
SIGMA NU REGENT
Lester F. Newkirk / ΣΝ-ΓΚ #291
Lester F. Newkirk initiated as a member of the Sigma Nu Fraternity Gamma Kappa chapter in 1928. Les served for many, many years as a dedicated alumni chapter advisor and house corporation president of Gamma Kappa.
In 1962, Les was elected to serve as Vice Regent, for the Sigma Nu National Fraternity. At the time of his election he was manager of the Boulder Theater. At the Sigma Nu Fraternity High Council for the 1970-72 biennium, Vice Regent Lester F. Newkirk was elected to Sigma Nu Regent.
The Forty-fifth Grand Chapter was held during August of 1972. Regent Les Newkirk was stricken with a heart attack at the beginning of the Grand Chapter and was unable to preside over the sessions. In the farewell address which he had prepared before being stricken, he told of the achievements during the biennium and gave a summary of the state of the Fraternity. In closing, he gave a charge to the delegates:
Read More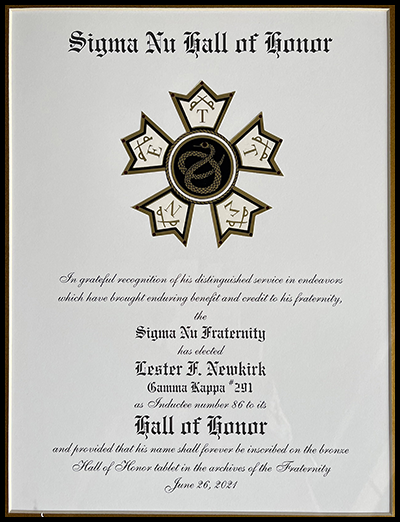 • We have come here, to bring together the human resources of our brotherhood, the richest and most valuable of our possessions. The experience of the mature and the energetic creativity of the young will bring our common efforts to success.
• The ideals of love, of honor, and of truth which Sigma Nu professes and lives are popular concepts today. Events described in the public media may lead us to wonder if they are popular because they are believed in and adhered to, or if it is because they have become the objects of endless search. I would be sad, if in today's world, truth honor and love appeared unattainable.
• The mission of the brotherhood of Sigma Nu may be to prove to its initiates and, through them, to a wondering world that it is possible to believe in the life of love, to walk in the way of honor, and to serve in the light of truth. It is a task to which we must dedicate our efforts and our lives. We can do so in the faith and conviction that mankind can learn to live in peace and brotherhood. That faith will be based on our belief in a merciful God who is love and truth, and that conviction will be based on our personal experience, in having lived in peace and brotherhood in the halls of Sigma Nu.
Newkirk was hospitalized throughout the Grand Chapter, but was able to be transported home to Boulder soon thereafter. He died December 6, 1973.
Univ. Colorado Alumni Recognition Award Recipient – 1982
F.M. "Dutch" Westerberg / ΣΝ-ΓΚ #376
Frank Marvin "Dutch" Westerberg was a Sigma Nu Gamma Kappa Chapter Commander, as well as a very long time chapter advisor and alumni house board president. His personal efforts, counsel to undergraduate members and generosity was integral in ensuring the ongoing viability and success of the fraternity at the University of Colorado. Throughout his long life, Dutch would always make sure that he stopped by the chapter to"check in" on his boys at Sigma Nu, encourage everyone and tell them what a great job they were doing. Dutch received the CU Alumni Recognition Award Recipient in 1982, for "engaging, contributing and celebrating his CU pride through extraordinary service to CU-Boulder".
Univ. Colorado Alumni Recognition Award Recipient – 2010
Clarence "Clancy" A. Herbst Jr / EN-GK#655
Clancy has put a lot of time and money into improving the university. He has served on the CU Foundation's board of directors since 1983, including a two-year term as chair. He also served on the engineering dean's advisory board and the engineering development committee for many years. In 1989, he developed and funded The Herbst Program of Humanities for Engineers. More recently, he established The Herbst Academic Center in Dal Ward Athletic Center. Clancy won the University Medal in 1991, Distinguished Engineering Alumni Award in 1992, Ira Rothgerber Volunteer Service Award in 1995 and the Athletic Hall of Honor in 1997.
Clancy's compassion has touched many lives. He has reached out to younger generations of Buffs by funding tuition for several students and by making considerable donations to the Golden Buffalo Scholarship Fund. He also has worked to bring together alums and help them form lasting relationships. In the 1990s, he donated $100,000 to the Alumni Association to help strengthen the association's membership program. He started the annual alumni hike from Aspen to Crested Butte, which the Alumni Association has carried on.
Throughout the years, Clancy has shown unwavering support for the school's athletic teams, extensive contributions and lifelong devotion to the university.
NASA ASTRONAUT
Vance D. Brand / ΣΝ-ΓΚ #723
• Sigma Nu Distinguished Alumnus of the Year – 1976
• University of Colorado Alumnus of the Century (1 of 12) – 1976
• University of Colorado George Norlin Award – 1991
• Honorary Doctor of Science Degree from University of Colorado – 2000
• BS – Business / CU Boulder 1953; BS – Aeronautical Engineering / CU Boulder 1960
• MBA – Business Administration / UCLA 1964
Read More
NASA Experience
• One of the 19 pilot astronauts selected by NASA in April 1966, Brand flew on four space missions; Apollo-Soyuz, STS-5, STS-41-B, and STS-35. He has logged 746 hours in space and has commanded three Shuttle missions.
• Brand was launched on his first space flight on July 15, 1975, as Apollo command module pilot on the Apollo-Soyuz Test Project (ASTP) mission. This flight resulted in the historic meeting in space between American astronauts and Soviet cosmonauts.
• Brand was commander of Columbia for STS-5, the first fully operational flight of the Shuttle Transportation System, which launched on November 11, 1982. The first mission with a four man crew demonstrated the Shuttle as operational by the successful first deployment of two commercial communications satellites from the payload bay.
• Brand commanded Challenger with a crew of five on the tenth flight of the Space Shuttle. The launch was on February 3, 1984. The 8-day flight ended with the first landing on the runway at the Kennedy Space Center.
• Brand again commanded Columbia on the thirty-eighth flight of the Shuttle, this time with a crew of seven. The spectacular night launch on December 2, 1990 started a 9-day mission devoted to round-the-clock observations of stars and other celestial objects. This Shuttle flight, the first dedicated to astronomy, provided a rich return of science data with emphasis on observation of very active celestial objects. At the time of the mission, Brand, at 59, became the oldest astronaut in space.
Special Honors
• JSC Certificate of Commendation (1970) NASA Distinguished Service Medals (1975 & 1992) NASA Exceptional Service Medals (1974 & 1988) Wright Brothers International Manned Space Flight Award (1975) VFW National Space Award (1976 & 1984) (FAI) Yuri Gagarin Gold Medal (1976) AIAA Special Presidential Citation (1977) American Astronautical Society's Flight Achievement Award for 1976 (1977) AIAA Haley Astronautics Award (1978) JSC Special Achievement Award (1978) Harmon Trophy (Astronaut) (1993) FAI De La Vaulx Medal (1983) NASA Space Flight Medals (1983, 1984, 1992) Distinguished Visiting Lecturer at University of Colorado (1984) De Molay Hall of Honor (1989) FAI Komarov Awards (1983 & 1991) De Molay Legion of Honor (1993) International Space Hall of Fame (1996) U.S. Astronaut Hall of Fame (1997) Meritorious Executive, U.S. Senior Executive Service (1997) International Aerospace Hall of Fame (2001)
HORATIO ALGER AWARD WINNER
Richard L. Knowlton / ΣΝ-ΓΚ #748
An excellent student in high school, Knowlton was a member of the National Honor Society. His skills in football won him a scholarship to the University of Colorado and became a member of the Sigma Nu Fraternity Gamma Kappa chapter. Upon graduation, he received an offer to play professional football, but chose to return to The Hormel Corporation in Minnesota, where he had worked summers since age 16.
Following a steady line of promotions, Knowlton was elected president of Hormel in 1979, followed by appointments as chief executive officer and chairman. In January 1996, he completed his 48-year career with Hormel Foods Corporation, and has stayed on as chairman of the Hormel Foundation. Knowlton is the only food company CEO to ever receive all three of the highest awards in his industry. Knowlton held a visiting executive position at the CU College of Business in 1992, was the featured speaker for Profiles in American Enterprise in 1994, and served on the board of the University of Colorado Foundation.
Read More
As a former member of the CU football team, Knowlton spearheaded the efforts to raise private gifts, eliciting more that 650 donations for the construction of the Dal Ward Athletic Center. He was elected to the University of Colorado Hall of Fame in 1989 and received the University Medal from CU in 1993. The Anti-Defamation League honored him as its 1990 Man of Achievement.
A 1992 recipient of the Horatio Alger Award. Horatio Alger Award recipients are dedicated community leaders who demonstrate individual initiative and a commitment to excellence as exemplified by remarkable achievements accomplished through honesty, hard work, self-reliance and perseverance over adversity. Members must have a strong philanthropic commitment and be willing to contribute to the Association's mission: providing scholarships for highly motivated but economically disadvantaged young people.
Knowlton has served on the Horatio Alger Board of Directors for a number of years, most recently as chairman. "My interest and commitment to Horatio Alger has intensified," he says. "Education needs have reached new dimensions. One of the most satisfying accomplishments with the Association has been the dramatic increase in the number and amount of scholarships we award." When advising youth, Knowlton says, "Establish work and social habits that form a strong value system within. Later, that foundation will provide a sound basis for the thousands of decisions and choices you have to make along the way. Always remember, it's the little things you do that make up who you are as a person. Leaders should be measured by how well they serve their people, both in the workplace as well as in the community."
2-TIME OLYMPIC GOLD MEDAL WINNER
Burdette Haldorson / ΣΝ-ΓΚ #795

One of two players to have his jersey number retired by the University, Burdette "Burdie" Haldorson will go down as one of the all-time great Buffaloes. Burdie won two gold medals with the United States Olympic basketball team (1956 & 1960) and was inducted into the PAC-12 Basketball Hall of Honor for his contributions to the school. Along with all of this, he's also in the Basketball Hall of Fame along with his teammates from the 1960 gold medal award winning team.
In 1955, Haldorson led CU to a conference championship and a third place finish in the NCAA tournament. Along the way he led the Big Seven Conference in scoring with 23.9 points a game and set a CU season record of 346 rebounds that wasn't broken until 2012.
Haldorson was offered a contract from the St. Louis Hawks when he graduated college. He did continue playing though, and led the Phillips 66 team to a National Industrial Basketball League title.
Read More
• Member of the Naismith Basketball Hall of Fame
• Member of the CU Hall of Fame
• Member of the Colorado Sports Hall of Fame
• Member of the Pac-12 Basketball Hall of Honor
• 1960 – Rome Olympic Gold Medal Winner (Men's Basketball)
• 1959 – Chicago Pan America Games Gold Medal (Men's Basketball)
• 1956 – Melbourne Olympic Gold Medal Winner (Men's Basketball)
• 1955 – AAU Men's Basketball All-American
• 1956 – AAU Men's Basketball All American
• 1958 – AAU Men's Basketball All American
• 1959 – AAU Men's Basketball All American
• 1955-1960 Phillips 66ers (AAU)
• 1955 – Luckett-Nix Clippers (AAU)
• 1954-55 All-Big 7 Conference First Team
• 1953-54 All-Big 7 Conference First Team
• His #22 is retired at CU
US NAVY – SEAL TWO
Capt Thomas "TNT" Tarbox / ΣΝ-ΓΚ #845
Thomas N. Tarbox became the Commander of the Basic Underwater Demolitions / SEAL (BUDS) instructors.
He was born March 7, 1935, in Montana. "My father loved initials," said Tarbox. "The 'N' doesn't stand for anything, he just liked that my initials were TNT. I used to tell people that 'N' stood for 'nothing.'" Tarbox joined the Sigma Nu Gamma Kappa chapter, graduating from the University of Colorado in 1957, with a BA in geography.
He then enrolled in Naval Officer Candidate School in Newport, R.I., and started UDT training. At the time there were no careers in UDT, so he left and went back to the University of Colorado and started studying to become a journalist. In the summer of 1962 he got a call from a friend telling him about the SEALs. His friend told him SEAL stood for "sink enemy and leave." Officers and enlisted men train side by side to become SEALs. SEAL actually stands for "sea, air and land," and the training is considered by many military experts to be the toughest training in the world.
Read More
At the time basic training lasted for four months. It was very physically demanding, Tarbox said. "We ran everywhere. There was a lot of swimming and the instructors constantly harass you. The harassment is necessary to see if a man is going to break when things get tough." There were 91 men in his class when it started, but only 20 finished. "I was confident I could make it through," said Tarbox. "I would look at the next guy and think if he can make it then so can I." A man may drop out of the course at any time, Tarbox said. To do this a man strikes a brass ship's bell three times and places his helmet down on the ground. Most classes lose about 80 percent of their trainees due to dropouts or injuries.
In 1971, Tarbox volunteered for service in Vietnam. The SEALs were initially deployed in and around Da Nang, training and supporting the South Vietnamese in naval special warfare, including reconnaissance and combat diving. Much of what Tarbox did during his career is still classified. He was a man of honor and never shared anything that wasn't to be shared. Tom believed that you should give 100% of whatever you were doing, to bring the young ones along and to make a difference.

ALL AMERICAN FOOTBALL PLAYER
Bob Stransky / ΣΝ-ΓΚ #887
Bob Stransky was voted to the CU All-Century football team, was a Football Writers Association/Look, NEA and International News Service All-American halfback as a senior in 1957, when he also earned first-team All-Big Seven accolades. He was second in the nation in rushing that season, with his 1,097 yards the second most in school history at the time. He had four 100-yards games that year, and three others of 99, 98 and 97 yards. His 1,868 career yards were the fifth most at the time in CU history, as were his 138 points (21 TDs, 12-22 PATs) and 2,760 all-purpose yards. His 2,455 yards of total offense were the third most in Buff annals at the time of his graduation. He averaged a healthy 5.7 yards per rush in his career. He was also called upon to return kicks, averaging 24.2 yards for 19 career kickoff returns and 9.9 for 37 punt runbacks; he had an 81-yard return for a touchdown against Utah as a sophomore in 1955.
Read More
He had an 80-yard rush for a score at Kansas as a junior the following season, making him one of a handful of players in school history to record two 80-plus plays. One of CU's top performers in Coach Dal Ward's famous single-wing offense, he also racked up 587 career passing yards and six touchdowns. He had five interceptions when he played on the defense, returning one for a touchdown. Played a key role in CU's first-ever bowl win, a 27-21 verdict over Clemson in the '57 Orange Bowl: he had 59 yards on seven carries, but two interceptions on defense, the first he returned 43 yards to the Clemson 10 to set up CU's second touchdown, and the second at the Buffalo 17-yard line to stifle Clemson's last rally with two minutes remaining. A member of CU's All-Century football team, selected in 1989 to commemorate the school's first 100 years of the sport. His jersey (#20) was honored in 2005. A second round draft pick in the 1958 NFL Draft by Baltimore (23rd overall), he also played one season in the AFL with Denver (1960). He went on to become a long-time teacher and coach in the Denver school system.
· 1957 All-American and All-Big Seven Conference
· Second leading rusher in the nation in 1957 with 1,097 yards
· 1957 Orange Bowl win, CU's first bowl victory
AWARD WINNING JOURNALIST / AUTHOR
Douglas S. Looney / ΣΝ-ΓΚ #956
Douglas Looney was born and raised in Boulder, CO. He was a member of Sigma Nu Fraternity and received a B.A. degree in journalism from CU. Looney was a senior writer at Sports Illustrated (more than 3 million circulation weekly, 23 million readers). During his more than 21 years at SI, his awards included best magazine story on sports. Looney has written for The New York Times, the Christian Science Monitor and the Sporting News; done late night on-air sports commentaries for NBC-TV; and hosted a sports talk show for Denver's leading radio station. He has appeared on numerous national radio programs, as well as on network television programs, including ABC's Nightline, CNN's Crossfire, CBS's 48 Hours and PBS's NewsHour. Looney is co-author of "Under The Tarnished Dome: How Notre Dame Betrayed Its Ideals For Football Glory." (reached No. 11 on the New York Times Best Seller list). He has been a major contributor to books on the Denver Broncos, the University of Texas football team and the official U.S. Olympic Committee book on the Sydney Olympics.
Looney was selected as a Notable Alumnus of the University of Colorado. He taught as a journalism adjunct at CU for nearly two decades. A past chairman of the advisory board for the School of Journalism and Mass Communication, Looney served 18 years as a member of the board. He's currently a member of the advisory board for CU's Army ROTC program where he was selected for its Hall of Fame.
ROCK AND ROLL BASSIST / PAUL REVERE AND THE RAIDERS
Phil "FANG" Volk / ΣΝ-ΓΚ #1016
Phil Volk was born in 1945 and grew up in Nampa, ID. He was known in high school for his musical and athletic abilities, but also for his outgoing personality and a flair for comedy, all of which would come to serve him well. At 16, Volk was in his first band, the Classics and by 18 had moved on to his first semi professional group, the Chancellors where he played rhythm guitar and sang some lead vocals. Their main inspiration as a group, was Paul Revere and the Raiders, who, by 1961-1962, had come to dominate the Pacific Northwest band scene in Idaho and Oregon. Phil Volk attended the University of Colorado in Boulder and joined Sigma Nu Fraternity. His college education lasted a total of 18 months, when one day in early 1965 he was contacted by Paul Revere, who wanted him as bassist in the band.
Read More
As a member of Paul Revere and the Raiders, from 1965 through 1967, the group's prime hit making years and their time of biggest exposure on television, Phil "Fang"Volk was probably the second best known bassist in rock, at least in America, after the Beatles' Paul McCartney. At this point, the group was signed to Columbia Records and were about to emerge as one of the most popular rock & roll acts in the country, thanks to the intervention of Dick Clark, who put them onto his new afternoon music show, Where the Action Is. The band had always had a good deal of comic antics in their stage act, but miming to their records on camera allowed them even more freedom to pump up the humor — and the presence of Volk only enhanced that attribute. He had the nickname "Fang," thanks to his somewhat prominent teeth, and he had a flair for visual humor that made him a natural; one of his trademarked moves involved flipping over his instrument on camera to reveal his nickname in big, goofy letters on the back.Volk remained with the group until the spring of 1967.
He has also enjoyed a professional music career for four decades since leaving Paul Revere & the Raiders. He went on to form Brotherhood and remained fully active in music. He organized a band called the Great Crowd soon after this, and spent much of the mid-'70s leading a band based at Disneyland. Phil Volk was part of Raiders reunion brought about by Dick Clark in 1978, and since then has led groups most recently in the early 21st century with the American Rock All-Stars, featuring ex-members of the Buckinghams and the Grassroots and his own Fang & the Gang.
Dick Clark 1967 interview with Phil Volk:
https://www.youtube.com/watch?v=AIJ_JFvpG-s
PULITZER PRIZE WINNER
John Branch / ΣΝ-ΓΚ #1476
John Branch, a reporter for The New York Times, won the 2013 Pulitzer Prize for Feature Writing for a story called "Snow Fall," about a deadly avalanche in Washington. He was a finalist for the award the year before, and was part of a team that was a finalist in 2018 in the "breaking news" category. The Pulitzer Prize is an award for achievements in newspaper, magazine and online journalism, literature, and musical composition in the United States.
John began his career with the New York Times in 2005. John is the author of two books – Boy on Ice (he received the ESPN / Pen Award winner for best sports book), and The Last Cowboys. John attended the Univ. of Colorado and graduated in 1989 Bachelors of Science degree (Business Admin – Marketing); In1996 he returned to CU and received a Master of Arts degree (Journalism).
Chip Arndt
Beta Alpha
Yale University
Amazing Race 4 Winner
Bob Barker
Epsilon Beta
Drury University
Emmy-winning host of "The Price is Right" game show since 1972; has served as emcee for Miss Universe and Rose Bowl parade
David Birney
Delta Beta
Dartmouth College
Award-winning actor/director whose career has embraced a substantial list of performances in both contemporary and classical roles in theatre, film and television.
Joe Buck
Beta Eta
Indiana University
Sportscaster on FOX television network
William Daniels
Gamma Beta
Northwestern University
Emmy Award winning actor starred in St. Elsewhere and Boy Meets World, and was the voice of "KITT" in the television show Knight Rider.
Adam Duritz
Zeta Xi
University of California, Davis
Lead singer for the Counting Crows
Harrison Ford
Zeta Tau
Ripon College
Starred in some of the most successful films ever made, including Star Wars, The Empire Strikes Back, Indiana Jones and the Temple of Doom, and The Fugitive. Also the 1985 Oscar best actor nominee for Witness
Zane Grey
Beta Rho
University of Pennsylvania
Western novelist (Riders of the Purple Sage)
Dave Guard
Beta Chi
Stanford University
Guitar player who helped form the Kingston Trio. The Kingston Trio won the 1959 Grammy for best folk performance.
William Inge
Nu
University of Kansas
Noted poet and playwright. Earned a Pulitzer Prize for Drama in 1953 for his play Picnic. Also won an Academy Award for Writing Original Screenplay in 1961 for The Dark at the Top of the Stairs.
Jamey Johnson
Iota Lambda
Jacksonville State University
Country Music Singer, co-writer of the CMA and ACM 2007 Song of the Year "Give It Away," recorded by George Strait
Tom Johnson
Mu
University of Georgia
President of CNN; has also served as President and CEO of the Los Angeles Times.
Curt Menefee
Beta Epsilon
Coe College
Sportscaster on FOX television network
Al Michaels
Zeta Upsilon
Eta Kappa
Arizona State University
San Diego State University
Play by play sportscaster for NBC's Sunday Night Football; formerly announced ABC's Monday Night Football from 1986 until it ended in 2005; one of only two men to have broadcasted for the championships of the four major American pro sports (NFL, MLB, NBA, NHL)
Glenn Miller
Gamma Kappa
University of Colorado at Boulder
Leader of the Glenn Miller Orchestra, received the GRAMMY Hall of Fame Award in 1983 (In the Mood) and 1991 (Moonlight Serenade)
Brian Mistler
Delta Mu
Stetson University
American philosopher and writer, Gestalt psychologist who studied with M. Pat Korb
Tom Poston
Epsilon
Bethany College
Won 1959 Emmy as best supporting actor in a comedy series for The Steve Allen Show. Featured in To Tell the Truth, Mork and Mindy, and Newhart. He received best supporting actor Emmy nominations in 1984, 1986, and 1987.
Burton Rascoe
Gamma Rho
University of Chicago
Editor and literary critic
Paul Rudd
Nu
University of Kansas
Actor in films such as Anchorman, The 40 Year Old Virgin, Clueless, and The Shape of Things
Josh Saviano
Beta Alpha
Yale University
Actor; played Paul Pfeiffer on the sitcom The Wonder Years
Shadoe Stevens
Epsilon Kappa
University of North Dakota
Host of ABC radio's American Top 40; voice of Hollywood Squares.
Boyd Tinsley
Beta
University of Virginia
Violinist of Dave Matthews Band fame.
Political Figures
| | | | |
| --- | --- | --- | --- |
| Michael D. Antonovich | Eta Phi | California State University, Los Angeles | Mayor of Los Angeles County; Member of Board of Supervisors |
| Bill Baarsma | Zeta Alpha | University of Puget Sound | Current Tacoma, WA Mayor |
| Lloyd Bentsen | Upsilon | University of Texas at Austin | Former Senator from Texas, Vice Presidential candidate in 1988, and former Secretary of the Treasury |
| Quentin N. Burdick | Gamma Tau | University of Minnesota, Twin Cities | D — North Dakota |
| Alan Cranston | Beta Chi | Stanford University | D — California |
| Tom Coburn | Epsilon Epsilon | Oklahoma State University – Stillwater | R — Oklahoma |
| Norm Dicks | Gamma Chi | University of Washington | Member of the United States House of Representatives (1976–present) (D — Washington) |
| Walter F. George | Eta | Mercer University | D — Georgia |
| Jim Gibbons | Delta Xi | University of Nevada, Reno | Current Nevada Governor |
| Bob Graham | Epsilon Zeta | University of Florida | Governor of Florida (1978–1986); U.S. Senator (1986–2005) (D — Florida) |
| Clifford P. Hansen | Epsilon Delta | University of Wyoming | R — Wyoming |
| Clarence M. Kelley | Nu | University of Kansas | Director of the Federal Bureau of Investigation from July 9, 1973 through February 23, 1978. Kelley, who was Kansas City police chief when he received the appointment, had been an FBI Agent from 1940 to 1961. Kelley also served in the United States Navy (22 July 1944 – 9 April 1946) having been granted military leave from the FBI. |
| Trent Lott | Epsilon Xi | University of Mississippi | Senate Republican Whip (R — Mississippi) |
| James A. McClure | Delta Omicron | University of Idaho | R — Idaho |
| George J. Mitchell | Delta Psi | Bowdoin College | Former Senate Majority leader and current chairman of The Walt Disney Company |
| Jody Powell | Eta Gamma | Georgia State University | President Carter's Press secretary |
| E. Clay Shaw Jr. | Delta Mu | Stetson University | Former Republican member of the United States House of Representatives from 1981-2006, representing the 22nd District of Florida |
| Steve Symms | Delta Omicron | University of Idaho | R — Idaho |
| Eugene Talmadge | Mu | University of Georgia | Governor of Georgia (1933–1937 and 1941–1943; elected in 1946 but did not serve |
| Herman E. Talmadge | Mu | University of Georgia | Governor of Georgia (1949–1955); U.S. Senator (1957–1981) (D — Georgia) |
| Joe Trippi | Zeta Iota | San Jose State University | Campaign manager for Howard Dean in 2004; worked on other Democratic campaigns from the 1980s onward |
| Roger Wicker | Epsilon Xi | University of Mississippi | Member of the United States House of Representatives (1995–present) (R — Mississippi |
Sports figures
| | | | |
| --- | --- | --- | --- |
| Felix "Doc" Blanchard | Psi | University of North Carolina at Chapel Hill | Three time All-American and 1945 Heisman trophy winner for Army (after joining Sigma Nu at UNC) |
| Paul "Bear" Bryant | Theta | University of Alabama | Coached several college football teams (most notably, his alma mater Alabama) for a career record of 323-85-17 |
| Cedric Dempsey | Gamma Gamma | Albion College | President of National Collegiate Athletic Association (NCAA) from 1993 to 2002 |
| Bobby Dodd | Epsilon Eta | University of Tennessee | Coached Georgia Tech football team to 165-64-8 record; All-American quarterback for Tennessee; one of only two men in the College Football Hall of Fame as both a coach and a player |
| Walt Dropo | Epsilon Phi | University of Connecticut | American League rookie of the year in 1950; played twelve seasons for the Red Sox |
| Dallas Green | Delta Kappa | University of Delaware | Major League baseball player; manager of Chicago Cubs and New York Mets; managed 1980 Philadelphia Phillies to first World Series title |
| Al Groh | Beta | University of Virginia | Former head coach of the New York Jets, current head coach of the University of Virginia football team |
| John Hadl | Nu | University of Kansas | A professional American football player who is now an associate athletic director in the University of Kansas (Jayhawks) athletic department |
| Dick Howser | Zeta Zeta | Florida State University | American League Rookie of the Year in 1961; managed the Kansas City Royals to first World Series title |
| Lindy Infante | Epsilon Zeta | University of Florida | Green Bay Packers head coach 1988–1991 |
| Chet Jastremski | Beta Eta | Indiana University | 1964 Olympic Bronze Medalist; made the cover of Sports Illustrated; member of the swimming hall of fame |
| Hayes Alan Jenkins | Gamma Beta | Northwestern University | Olympic figure skating Gold Medalist, 1956 |
| Norm Johnson | Epsilon Pi | University of California, Los Angeles | Ranks fifteenth all time in points scored in NFL history |
| Stan Jones | Delta Phi | University of Maryland | NFL Hall of Famer |
| Guy Lewis | Zeta Chi | University of Houston | University of Houston Basketball coach with 27 straight winning seasons |
| Archie Manning | Epsilon Xi | University of Mississippi | Professional quarterback for the New Orleans Saints |
| Eli Manning | Epsilon Xi | University of Mississippi | Professional quarterback for the New York Giants |
| Mike McCormack | Nu | University of Kansas | NFL Hall of Famer |
| Wayne Munn | Delta Eta | University of Nebraska-Lincoln | World Heavyweight Wrestling Champion in 1925 |
| Rick Neuheisel | Epsilon Pi | University of California, Los Angeles | Former college football head coach; current (as of 2006) quarterbacks coach for the Baltimore Ravens |
| Pat Riley | Gamma Iota | University of Kentucky | NBA head coach for Los Angeles Lakers, New York Knicks, and currently the Miami Heat; served as head coach for five NBA championship teams, and as a player or assistant coach on two more |
| Bill Stanfill | Mu | University of Georgia | NFL All-Pro defensive end for Miami Dolphins; college football All-American and Outland Trophy winner for Georgia Bulldogs |
| Steve Stenstrom | Beta Chi | Stanford University | Stanford quarterback and a Heisman trophy candidate |
| Greg Swindell | Upsilon | University of Texas at Austin | MLB — Houston Astros; named to Baseball American's all time college all-star team |
| Tommy Vardell | Beta Chi | Stanford University | Cleveland Browns running back |
| Bill Yoast | Eta | Mercer University | Coach portrayed in Remember the Titans |

Other famous members
| | | | |
| --- | --- | --- | --- |
| Daniel Amos | Mu | University of Georgia | CEO of AFLAC Insurance |
| Vance Brand | Gamma Kappa | University of Colorado at Boulder | Astronaut — flew on ASTP, commander of STS-5 and STS-41B |
| Ronald Evans | Nu | University of Kansas | NASA astronaut and Pathfinder to the Stars who piloted Apollo 17 |
| Robert L. Gernon | Nu | University of Kansas | Kansas Supreme Court Justice 2003-2005 |
| Chet Huber | Eta Mu | Kettering University | Current President of Onstar |
| Don Malarkey | Gamma Zeta | University of Oregon | Member of Easy Company of the 101st Airborne Division during World War 2 and is prominently featured in the Steven Ambrose book Band of Brothers which was made into a very popular HBO mini series. |
| Johnny L Morris | Epsilon Beta | Drury University | Founder and Owner of Bass Pro Shops outdoor retailer |
| Charles R. Schwab | Beta Chi | Stanford University | Founder, Chairman and CEO of Charles Schwab Corporation Retail Stock Brokerage |
| General Paul Tibbets | Epsilon Zeta | University of Florida | Pilot of the Enola Gay, the plane that dropped the first atomic bomb used in warfare on Hiroshima in 1945 |
| Don Tyson | Gamma Upsilon | University of Arkansas – Fayetteville | Chairman of Tyson Foods |